We offer to our customers various types of Meteorological and Measures products:
1- Temperature chart recorders
Visio-tambour Ambient Recording Thermometer
Measures and records ambient temperature. Provided with an ultra-sensitive bi-metallic thermometer.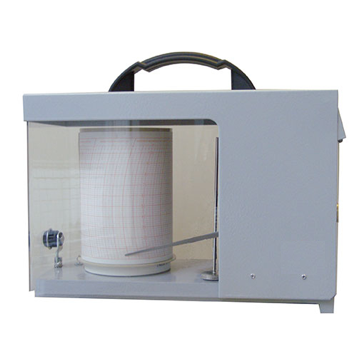 Specifications:
Precision: +/- 1% of the full scale
Operates by mechanical movement (1r/ 24 hours and 7 days) or quartz movement (1r/ 24 hours and 7 days)
Provided with a sheet metal cover and a light alloy base coated with Epoxy paint, and a tamperproof reset device
Delivered with 100 diagrams, a pen and a battery (1.5 V)
Dimensions : 285 mm x 200 mm x 135 mm


2- Thermo-Hygrograph
Visio-tambour Ambient Recording Thermometer Hygrometer
Measures and records the ambient temperature and hygrometry.
Provided with an ultra-sensitive bi-metallic thermometer and a special hygrometric bulb sensor textile type.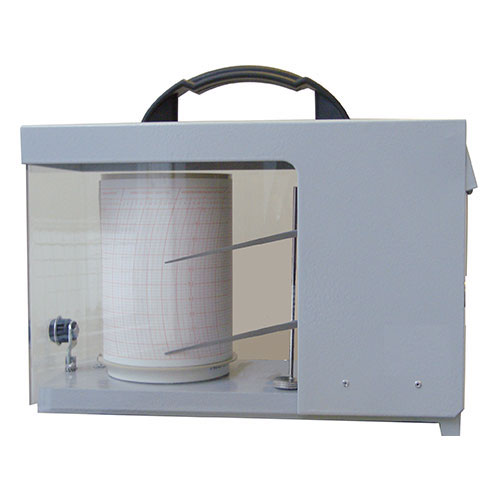 Specifications:
Accuracy: +/-1°C in temperature and according to the NFX 15-111 norm for hygrometry
Operates by mechanical movement (1t/ 24 hours and 7 days) or quartz movement (1t/ 24 hours and 7 days)
Provided with a sheet metal cover and a light alloy base coated with Epoxy paint, a safety lock, and a tamperproof reset device
Delivered with 100 diagrams, two pens and a battery (1.5 V for quartz movements)
Dimensions: 285 mm x 200 mm x 135 mm – small format: 194 mm x 168 mm x 100 mm (quartz movement only).
3- Barograph
Visio-tambour Atmospheric Pressure Recorder
Measures and records atmospheric pressure.
Includes a sensor made with 4 aneroid caps in cupro-beryllium for part number 10329 (accuracy: +/- 0.6hPa)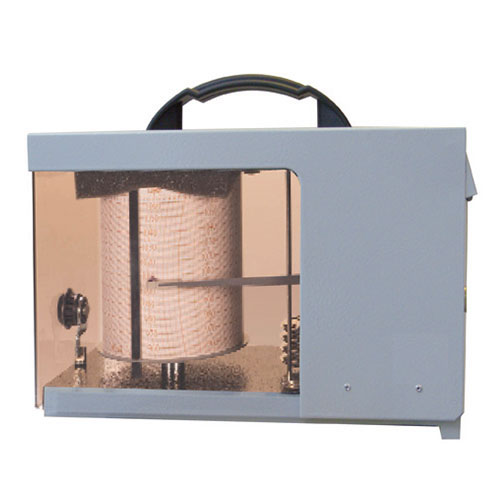 Specifications:
Operates by mechanical movement (1r/7 days) or quartz movement (1r/7 days).
Provided with a fast adjustment for the barometric value
Provided with a metal cover with an alloy base covered with an epoxy paint, a security lock and an inviolability patch
Delivered with 100 charts, one pen and a battery (1.5 V for quartz movements)
Dimensions : 285 mm x 200 mm x 135 mm
4- Campbell Stokes Heliograph
This instrument is used to measure Sun shine intensity over day. Main Components are bowls which are manufactured from Gunmetal and are precisely machined and assembled.
Base is made of marble. The Special Solid glass sphere bowl is made uniformed and well annealed and air bubble free glass having good surface finish.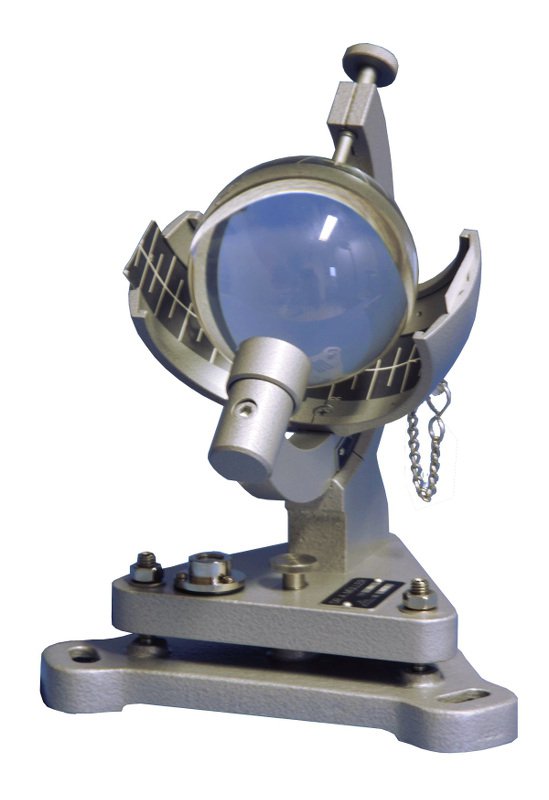 The chart paper is inserted in the groove. The sun ray's intensity causes a dark spot (due to burning) on Chart paper for full day. According to the dark spot width, intensity of Sun is measured using supplied Sunshine Measuring Scale.
The instrument is supplied with one-year recording charts.
5- Digital Thermometer T64



The T64 thermometer is a fully autonomous product and 100% mercury-free. It allows temperature measurements with a precision of 0.1 °C in the range of -30°C to +69.9°C (4-wires mounting). Its power source provides a 5 years autonomy.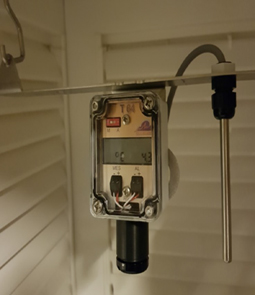 It performs a measurement every 6 seconds and displays the instantaneous temperature, max temperature and mini temperature. The PT100 temperature sensor can be deported for an extended measure from -49.9°C to +69.9°C.
IP68 waterproof and equipped with a desiccant capsule, the T64 thermometer is intended for an outdoor installation to measure either the temperature in the soil, or above the ground, or in water from an evaporation pan or the air temperature under shelter type BMO1161 or 1175.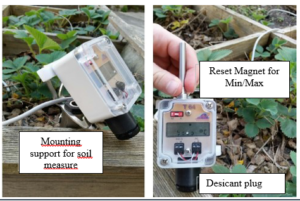 Depending on the measurement, the T64 housing is adapted to various stainless-steel supports, in a vertical position for measuring the temperature of the air under shelter, at 45° for measuring the temperature of the soil and water pan (fixing on the angle of the cage).
6- Digital Barometer
Model 7150 Barometric Pressure Sensor
AWI's 7150 Digital Barometer Series, was designed to provide accurate pressure measurements over a wide range of environmental temperatures and pressures.  The fully compensated digital barometer is ideal for use in demanding automated weather station applications and is fully certified by the FAA.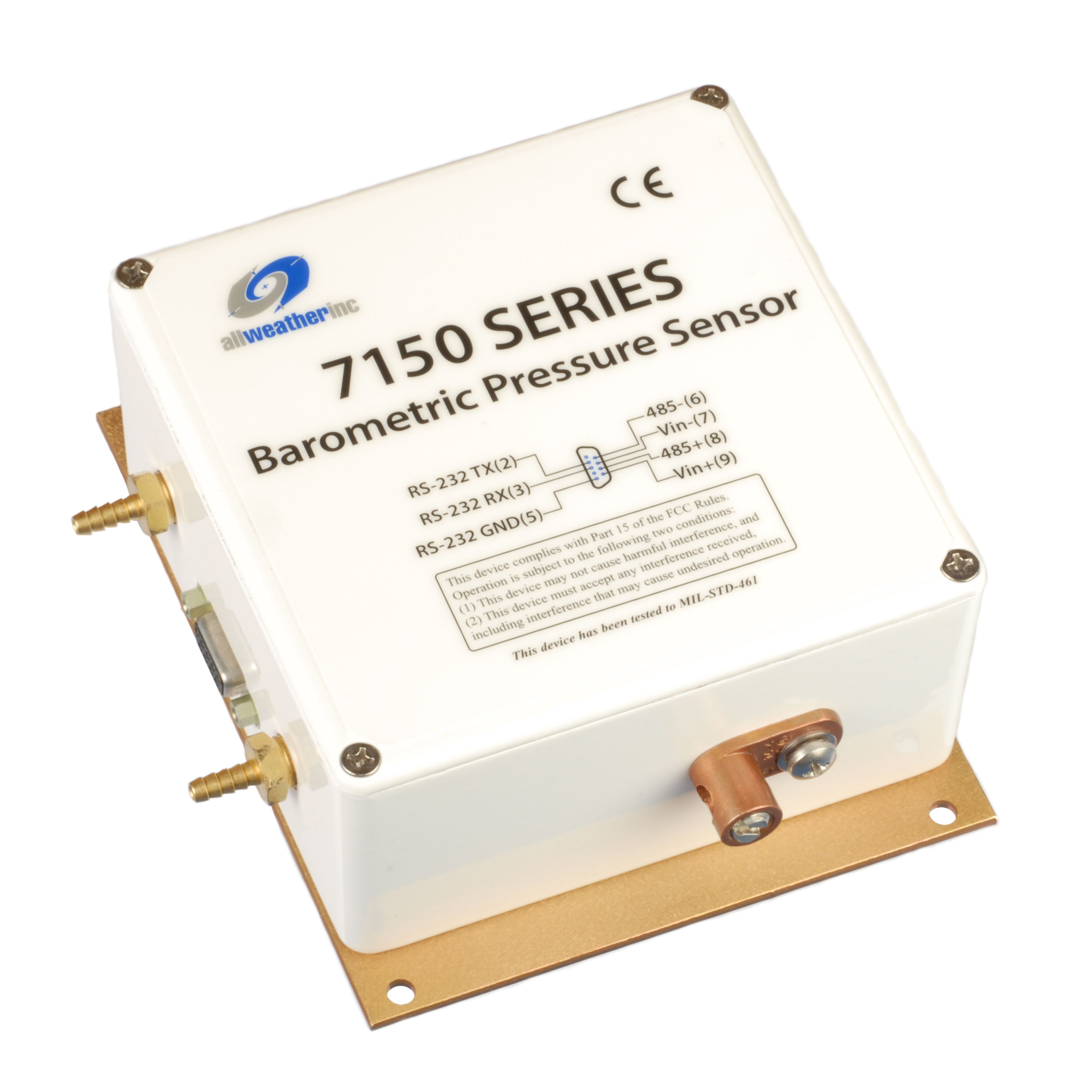 The barometers use pressure transducers with silicon piezo resistive absolute pressure sensors.  The pressure sensors have excellent hysteresis and repeatability characteristics, low temperature dependence, and very good long-term stability.  The pressure transducers used in the 7150 series are unparalleled in terms of durability and ruggedness.
Three models are available in the 7150 series, and they vary by the number of transducers that are present.  Additional pressure transducers allow for operational redundancy, and can be used to flag the digital barometer for maintenance or replacement.  All of the barometers in the 7150 series are available with either RS-232 or RS-485 communication.
Model 11906 Aviation Grade Digital Barometer
The 11906 Series Digital Barometers are designed to make accurate pressure measurements in
a number of environmental conditions.  Using capacitive, absolute pressure sensor technology, the 11906 series achieves excellent hysteresis as well as outstanding long-term stability.  By combining the sensor with AWI's quad-plate pressure port technology, Venturi effects by wind speed are minimized contributing to the barometer's exceptional repeatability.  The 11906 series barometers are ideal for high performance applications such as aviation and meteorological studies.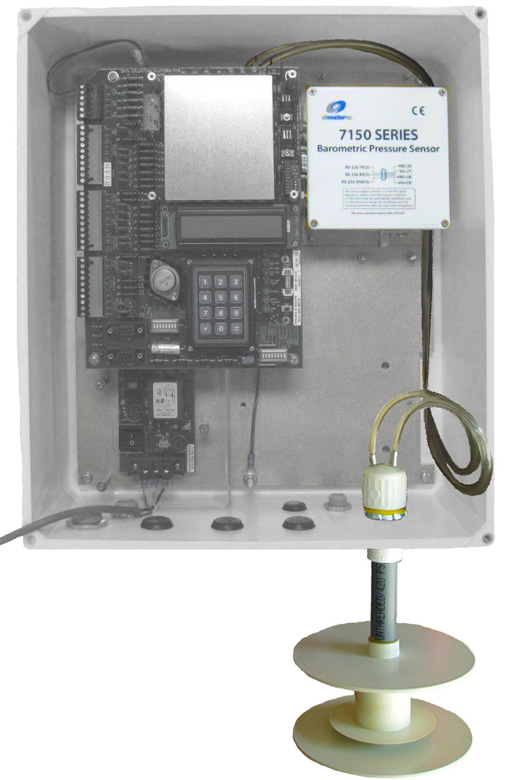 When the pressure changes, the silicon diaphragm bends and changes the height of the vacuum gap in the sensor.  As the vacuum changes the capacitance of the sensor changes, which is measured and converted into a pressure reading.  The pressure sensor combines three powerful elements to obtain its superior performance.  These elements include, the use of single crystal silicon as a sensor material, the capacitive measurement principle, and the air sampling inlet.  Silicon offers great elasticity, low hysteresis, excellent repeatability, small temperature dependence, and superior long-term stability.  The design of the capacitive pressure sensor was maximized for a wide dynamic range and includes a built-in overpressure blocking mechanism.  Pressure sampling is accomplished through the quad-plate pressure port that negates any outside air effects through its unique air inlet design.
The 11906 Series of Digital Barometers continuously compensate for pressure linearity and temperature dependency.  Each barometer is calibrated through a scientifically valid chain of reference.  The traceability chain goes directly from the product up to the National Institute of Standards and Technology (NIST) with an unbroken chain of calibrations.  All barometers come with a factory calibration certificate with is NIST traceable.
7- Stevenson Screens
These Screens are manufacturer as per IS: 5948:1970 and are suitable for housing thermograph, hydrograph, dry and wet bulb, Thermometer and maximum-Minimum Thermometer. Basically, these are manufacturer from best quality wood and accurately assembled with side louvers and supplied available in two sizes: small and large size.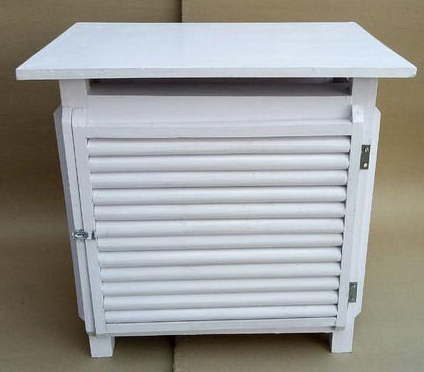 8- Rain gauges and measuring cylinders
MODEL 1: Ordinary Rain Gauge

Specifications:
200 cm2 collectors with brass ring and funnel 

2- or 4-liters bottle for rain water collection included 0.2 mm with metric adapter

Measuring cylinder with 0.1 mm graduation
Measuring cylinders
Glass measuring cylinders for rain gauge made from superior quality – Borosilicate glass.
MODEL 2: Self Recording Rain Gauges
Rain Gauge is manufactured from non-corrosive fiber glass reinforced plastic container, as per standard IS:5225 :1969.
Recording rain gauges are used to obtain a continuous record of daily or weekly rainfall. It consists of a funnel-shaped collector at the top of the gauge and a float syphon chamber and recording mechanism just below it.
The rain water collected by the collector is led into the float chamber. The float is having a central stud on which a pen assembly is fixed. The pen is moving over a daily chart wound over a clock drum. After every 10 mm of rainfall syphoning occurs and recording of rain starts afresh.
Model 6011 – Tipping Bucket Rain Gauge
The 6011 Series Tipping Bucket Rain & Snow Gauges are standard, precision instruments for measuring rainfall volume and/or rate.  Rain enters the gauges through a large funnel, the rim of which is protected by a metal ring to prevent distortion.  Collected water passes through a debris-filtering screen and is funneled into one of the two tipping buckets inside the gauge.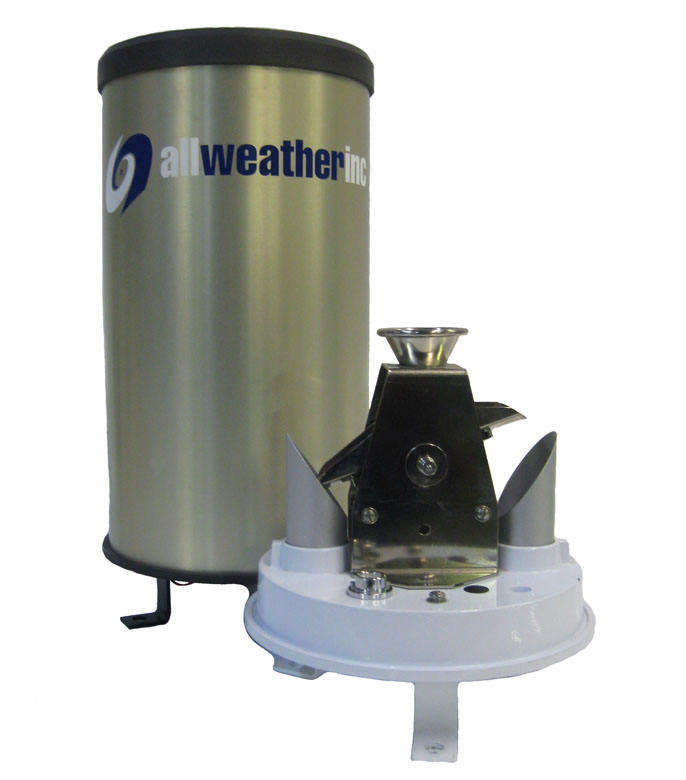 The bucket tips when a given amount of water has been collected; the amount of which is determined by gauge calibration.  As the bucket tips, it causes a 0.1 second switch closure.  The tip also brings a second bucket into position under the funnel, ready to fill and repeat the cycle.  After the rain water is measured, it drains out through tubes in the base of the gauge.  These drain holes are covered by screens to prevent insect entry.
Various models in the 6011 series offer data collection in either US or metric units.
Model 6030 – Optical Rain Gauge
The AWI Model 6030 Optical Rain Gauge is a superior tool for rain measurement.
The Model 6030's scintillation technology is the best method for optical measurement of rain.  Falling rain causes beam intensity variations in the infrared light as it passes through the beam.  These irregularities, known as scintillations, have characteristic patterns, which are detected by the sensor and converted to rain rate.

The Model 6030 was designed with a tough, yet lightweight frame, which can withstand the rigors of the most severe weather.  Lens heaters keep the optical path clear of due or condensation, and the unit enclosure is rated NEMA 4 (IP 66).
9- Wind speed and direction
Model 2020 Micro Response Tail Vane
This is a highly reliable, low threshold wind direction sensor that responds to winds as low as 0.5 mph.  The machined aluminum body is aerodynamically shaped to combat sensor-induced turbulence.  A labyrinth beneath the vane assembly prevents water and dust particles from reaching the sealed bearings at the top of the shaft.  The reinforced, lightweight foam tail has a butyrate skin and a stainless-steel counterweight.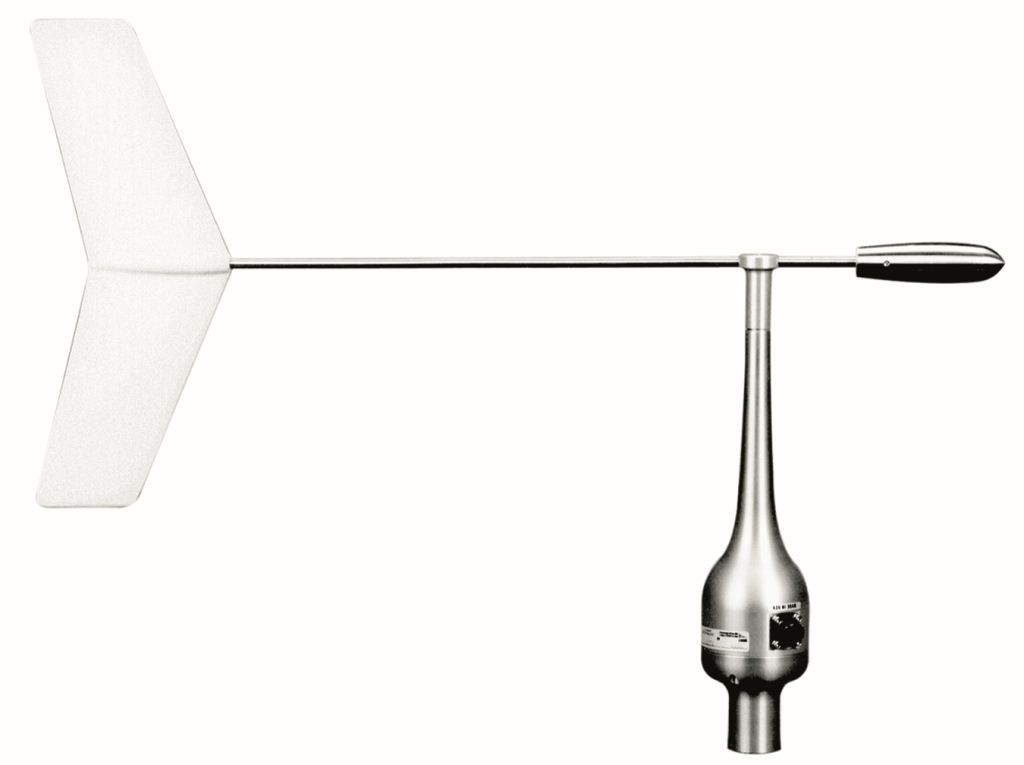 As the vane turns, it rotates a stainless-steel shaft held in place with instrument-grade bearings.  A waterproof conductive plastic potentiometer is coupled to the base of the shaft.  This potentiometer has excellent linearity.  Very low torque is required to move the wiper.  The use of a single wiper doubles the life expectancy of the potentiometer compared to dual-wiper potentiometers.  Electronic switching inside the signal conditioning module provides an output range of zero to 360 degrees.
Model 2030 Micro Response Anemometer
The Model 2030 Anemometer is a highly responsive and rugged 3-cup anemometer designed to measure wind speeds as low as 0.5 miles per hour.  It is constructed entirely of stainless steel and anodized aluminum to resist corrosive environments.  Like it's vane counterpart, the micro response anemometer has an aerodynamically shaped body and utilizes a labyrinth to prevent dust and water from reaching the bearings.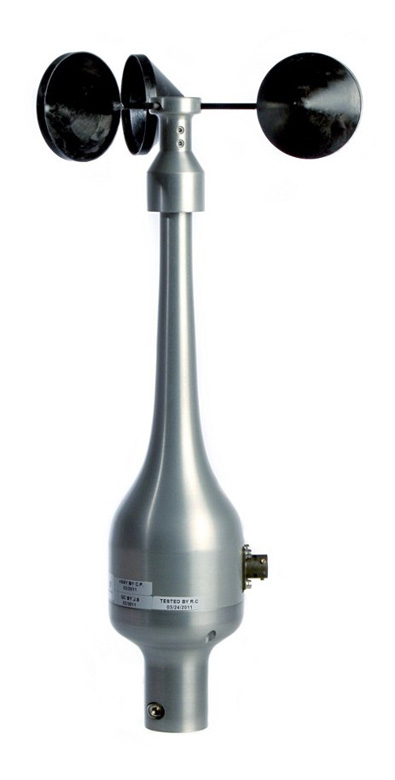 As the cups cause the main shaft to rotate, it causes a slotted disc (known as a Photon Chopper) to move through a photon beam which is generated by a long-life infrared LED.  The interruption of the beam causes a pulse output with a frequency proportional to wind speed.  The photon-coupled chopper is mounted on the connector and can be removed from the body simply by removing the connector.
Model 2040 Ultrasonic Wind Sensor
The FAA certified Model 2040 Ultrasonic Wind Sensor provides the best solution on the market for
reliable, accurate, and cost-effective wind speed and directional measurement.  It combines the latest patented advances in ultrasonic technology, together with AWI's years of experience as the recognized world leader in all-weather sensors.  The elimination of moving parts, together with a rugged stainless-steel construction, means this wind sensor is virtually maintenance-free and requires no calibration on site.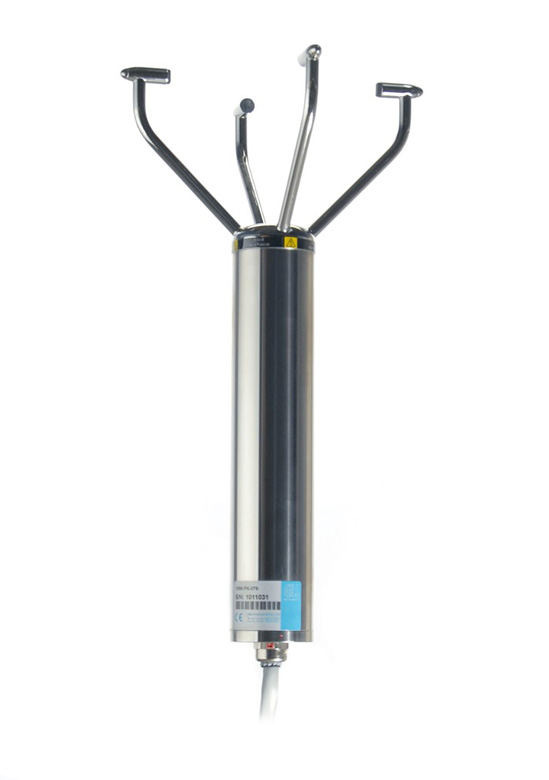 The Model 2040 is available with or without de-icing heat, and is offered with either analog or digital output.
With a Windows based WindCom communications package, many output modes are user selectable including units of measure, output rate, and output format.  This flexible design allows the Model 2040 to be configured by the user to match their exact requirement